What Are Soup Dumplings, and Why Are They So Delicious?
August 7 2023
You may have had soup with dumplings, but what about soup in dumplings? Traditional Chinese soup dumplings are popular for a reason—they're easy to cook, pair great with a ton of other dishes, and they're full of rich, savory soup.
You've probably seen soup dumplings on your feed and wondered if you're the only one who doesn't know what they are. You're not alone! So we've put together a 101 guide on what soup dumplings are, and how to get some tasty dumplings delivered right to your front door.
What Are Soup Dumplings?
A soup dumpling is made from three main parts: a supple, delicately thin dumpling skin; rich, juicy meat; and a seasoned broth. At room temperature, the broth has a gelatin texture, but when it's steamed, the dumpling becomes a little packet of hot soup and meat.
No one knows for sure when the first soup dumplings were made. There's a famous story about a Chinese emperor who traveled on the Yangtze River, telling every fellow foodie he met about the delicious Xiao Long Bao (小笼包) he tasted near Shanghai. There's another story that's less romantic (but still inspiring!) about a particularly inventive Shanghai chef who was looking for an extra twist to make his steamed buns stand out from the rest.
Either way, what we do know is that soup dumplings eventually took off, making their way out of Shanghai to become an iconic Chinese dish that is enjoyed around the world.
How Are Soup Dumplings Made?
Because you have to prepare the filling, the dough, and the gelatin, it can take multiple days to make soup dumplings from scratch. And, honestly, if something takes that long to make and people still do it, it must taste pretty spectacular.
The fillings for soup dumplings are typically made from seasoned pork, and the aspic or gelatin is made by cooking down broth and letting it cool and congeal. The dough must be kneaded to be extremely soft and smooth before it is rolled into a thin, flat circle.
Once everything is ready, the filling and gelatin are placed onto the dough before the edges are pleated and folded together on the top.
Where Can I Get Soup Dumplings?
If you're looking for delicious soup dumplings with fresh ingredients and locally sourced meat, then you've come to the right place. We started as a brick-and-mortar restaurant in Bellevue, Wash., specializing in Shen Jiang Bao—a pan-fried bao with a soupy filling. Since then, our name has changed, and our business has grown, but we're still the same small team making authentic Chinese food.
Soup dumplings can be found in many Asian grocery stores and dim sum restaurants. They can also be ordered online through MìLà and sent directly to you. We ship our frozen soup dumplings nationwide in bags of approximately 50 each. They are crafted to be cooked straight from the freezer and steamed up in just 11 minutes. Plus, every bag comes with steamer liners to make preparing them a breeze.
Our soup dumplings are packaged with dry ice and wrapped in an insulated liner to keep them frozen in transit, and we also offer a "Melt-Free Guarantee." If your delivery is delayed and your soup dumplings arrive melted, we'll ship you a replacement!
How to Cook Frozen Soup Dumplings
Put about 2–3 inches of water into a large wok, pan, or pot and bring it to a rolling boil. Place the dumplings in a lined steamer basket about one inch apart from each other, and steam the soup dumplings for about 11 minutes until their internal temperature reaches 165ºF. Take them off the heat and let them sit for a minute with the lid on, then take the lid off and let them sit for another minute to cool. That's it—they're ready to eat!
How to Eat Soup Dumplings
Voraciously! At least, that's how we eat them, but that's up to you.
The real trick to eating soup dumplings is not to break the skin and spill any hot soup before you manage to eat it. The best soup dumplings have a thin, delicate skin around them. It also makes chopsticks a great choice for delicately picking up each dumpling.
We love to serve soup dumplings with flavorful sauces like Ginger & Scallion Umami Oil, Classic Black Vinegar, and Spicy Chili Crisp. You can try them one at a time or mix them together before dipping, pouring, or spooning the sauces over your soup dumplings—no one's stopping you! We especially love dipping bowls since everybody gets their own bowl—and you don't have to worry about anybody sneaking in a double dip.
Soup dumplings are a great choice as a main course, side dish, or midnight snack. As for what you should serve with your soup dumplings, that's totally up to you! Some popular choices are Chinese noodles, steamed vegetables, stir-fry, spring rolls, ramen, and fried rice. You can even serve soup with your soup dumplings!
MìLà's Soup Dumpling Flavors
Each of our bite-sized, restaurant-quality soup dumplings is made to maximize the soup (and flavor!) in every bite. Right now, we have three delicious flavors of soup dumplings, but we also have a bunch of new recipes on the roadmap. If you want to see a new flavor, let us know at [email protected].

Savory Chicken Soup Dumplings
Soupy
and
savory? That's right! Our
Savory Chicken Soup Dumplings
are made with locally-sourced, freshly-ground chicken. Add in some shitake mushrooms, green scallions, fresh chopped ginger, and a rich, chicken- and pork-based broth, and you'll see why they're so savory.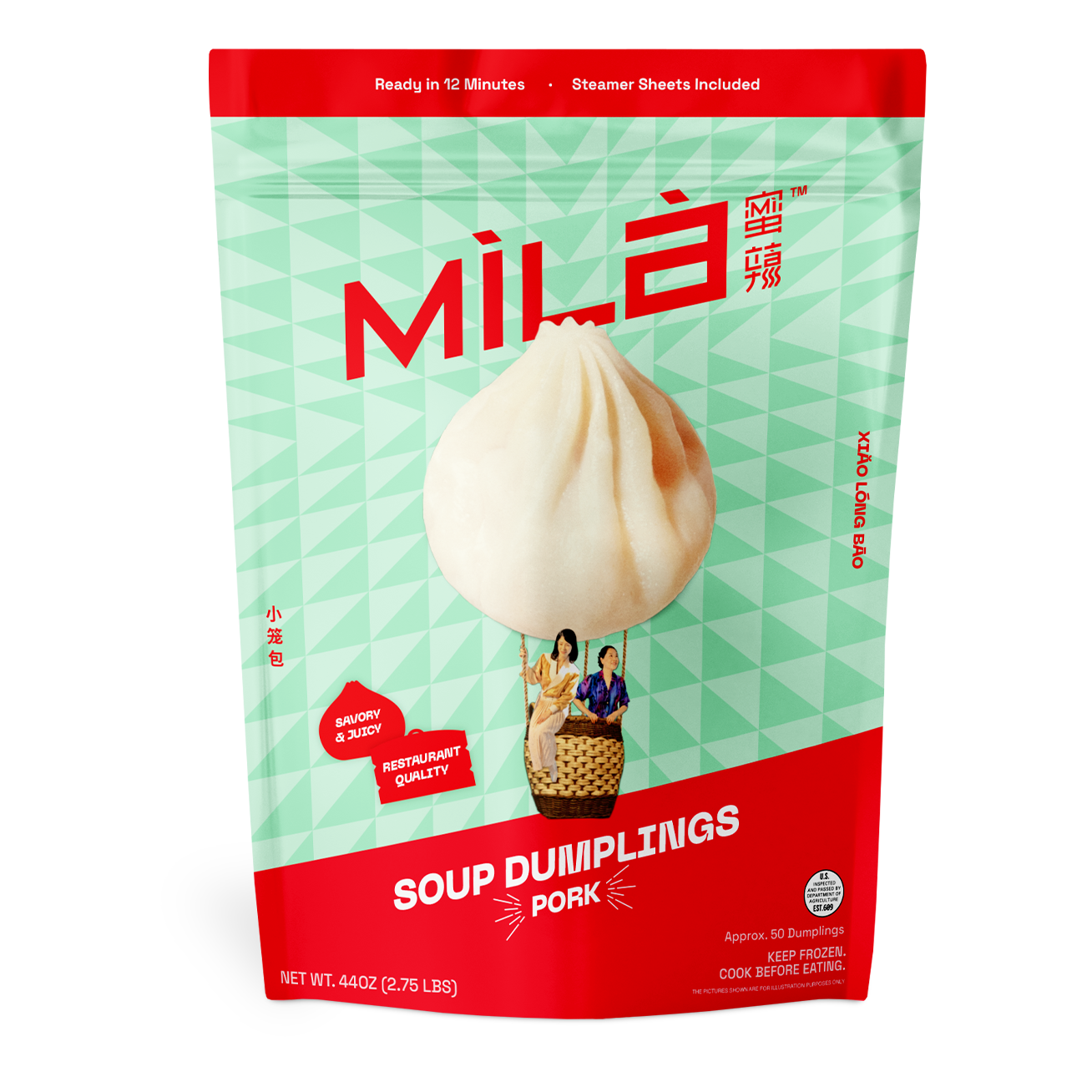 Classic Pork Soup Dumplings
The soup dumpling OG, our Classic Pork Soup Dumplings are made from 80/20, freshly-ground and locally-sourced pork. And don't forget our fresh ginger, scallion, and rich broth seasoned with aromatic rice wine.
Shrimp & Pork Soup Dumplings
When pork alone is not enough, shrimp is there to lend a hand. Our Shrimp & Pork Soup Dumplings are made from ground pork and Pacific white shrimp along with our classic, flavorful broth. Did we mention that our dumplings are made with high-protein flour created from premium northern winter and spring wheat?
Order Soup Dumplings from MìLà Today
If you got half as hungry reading this as we got writing it, we've got just the thing. Order some MìLà soup dumplings today to check out our bite-sized, restaurant-quality little basket buns today.