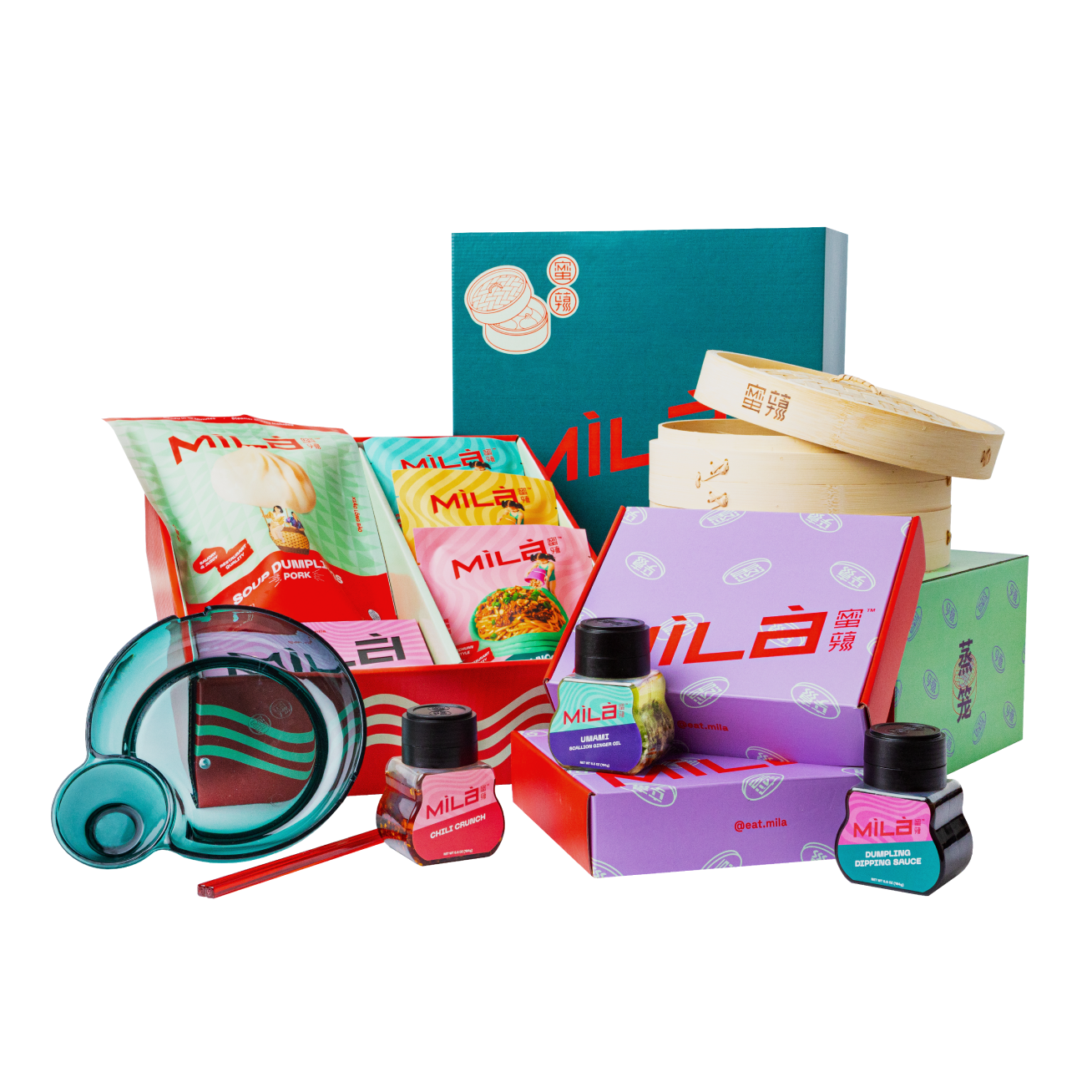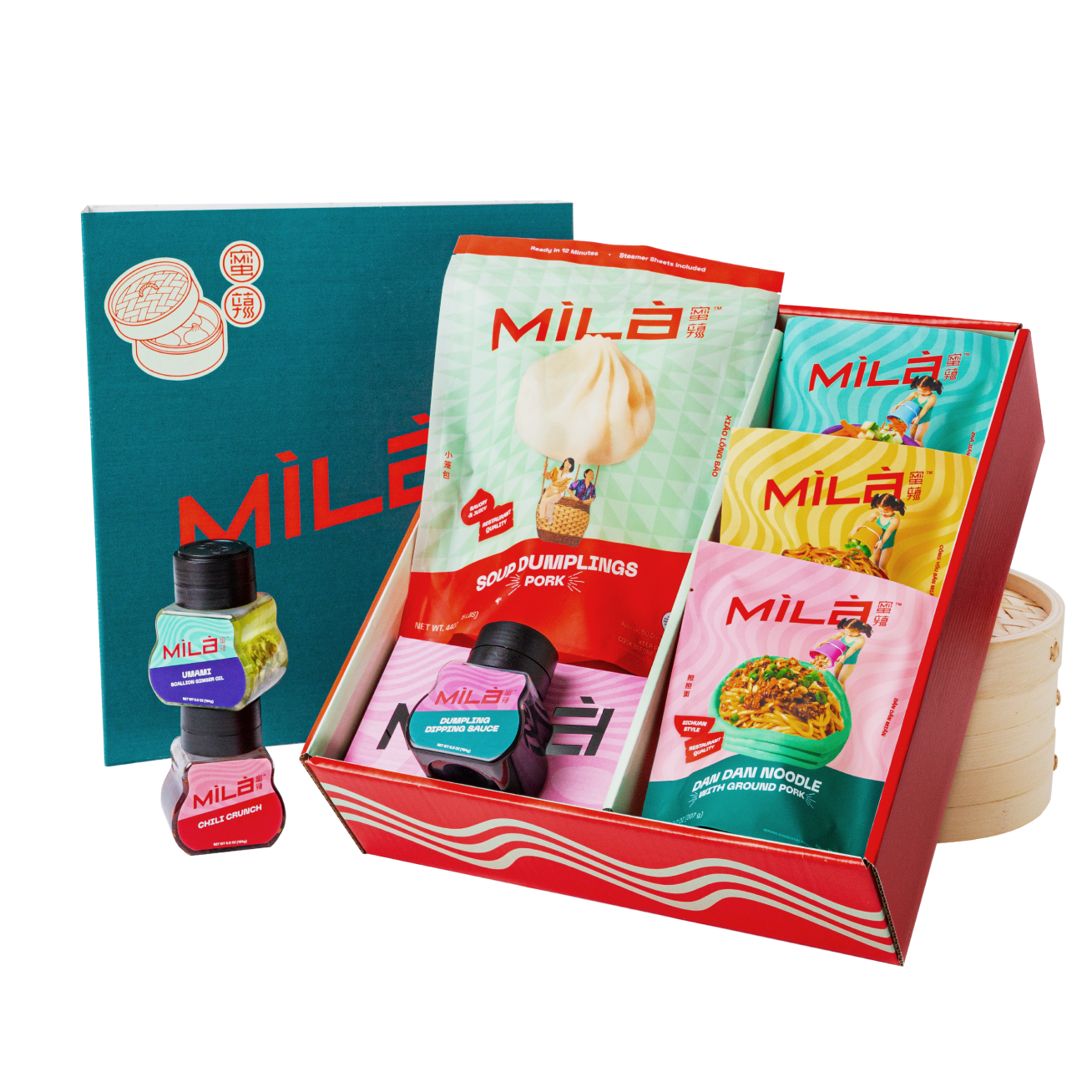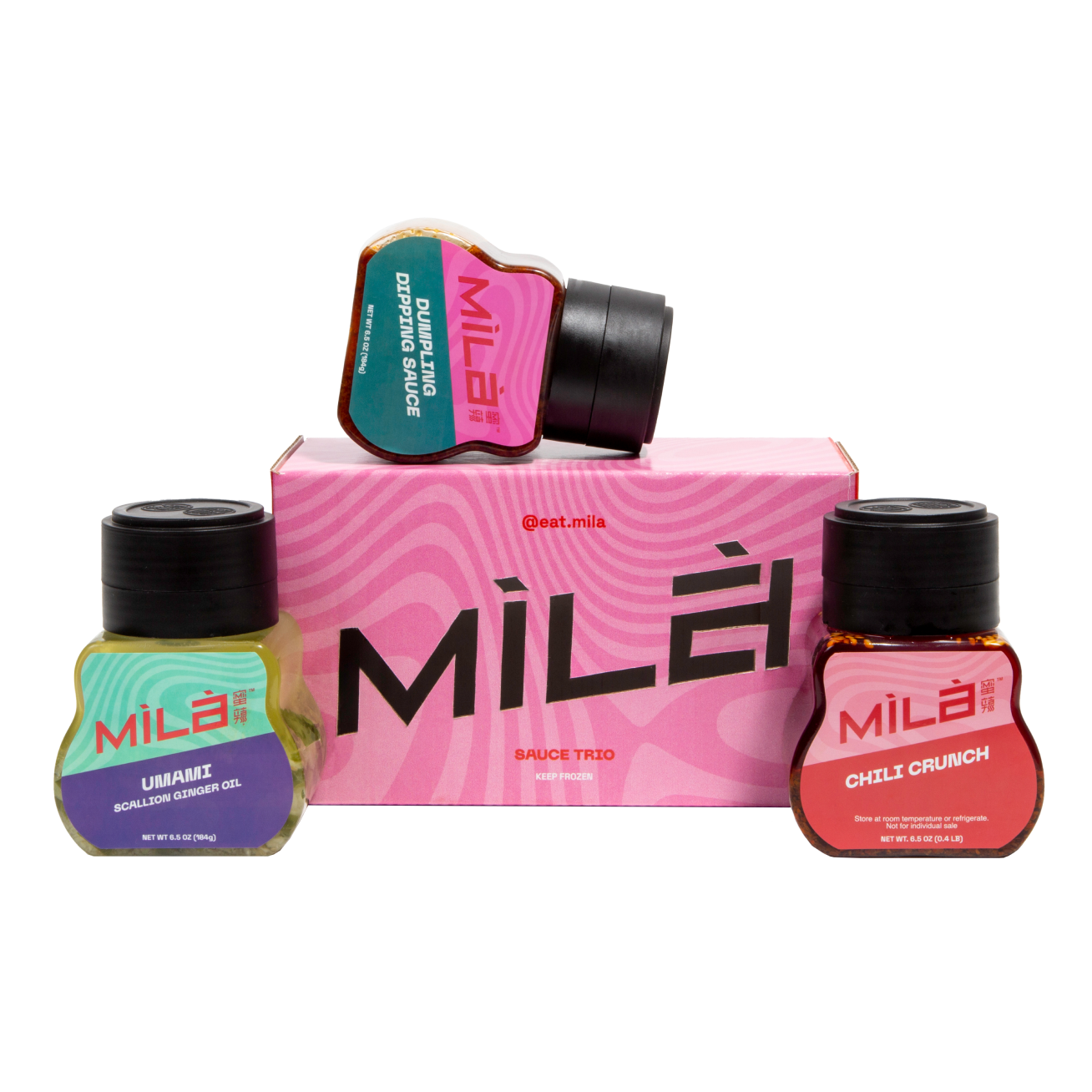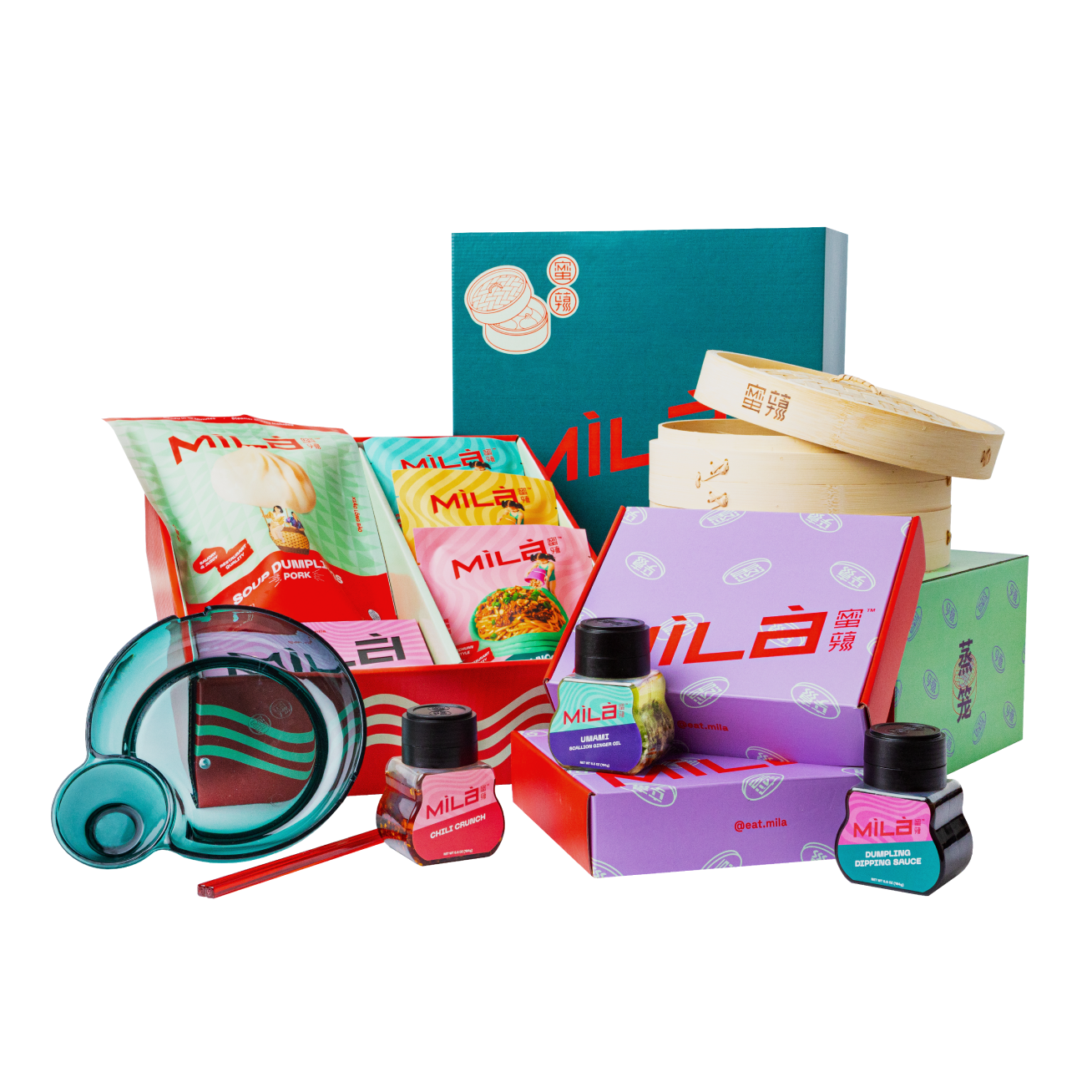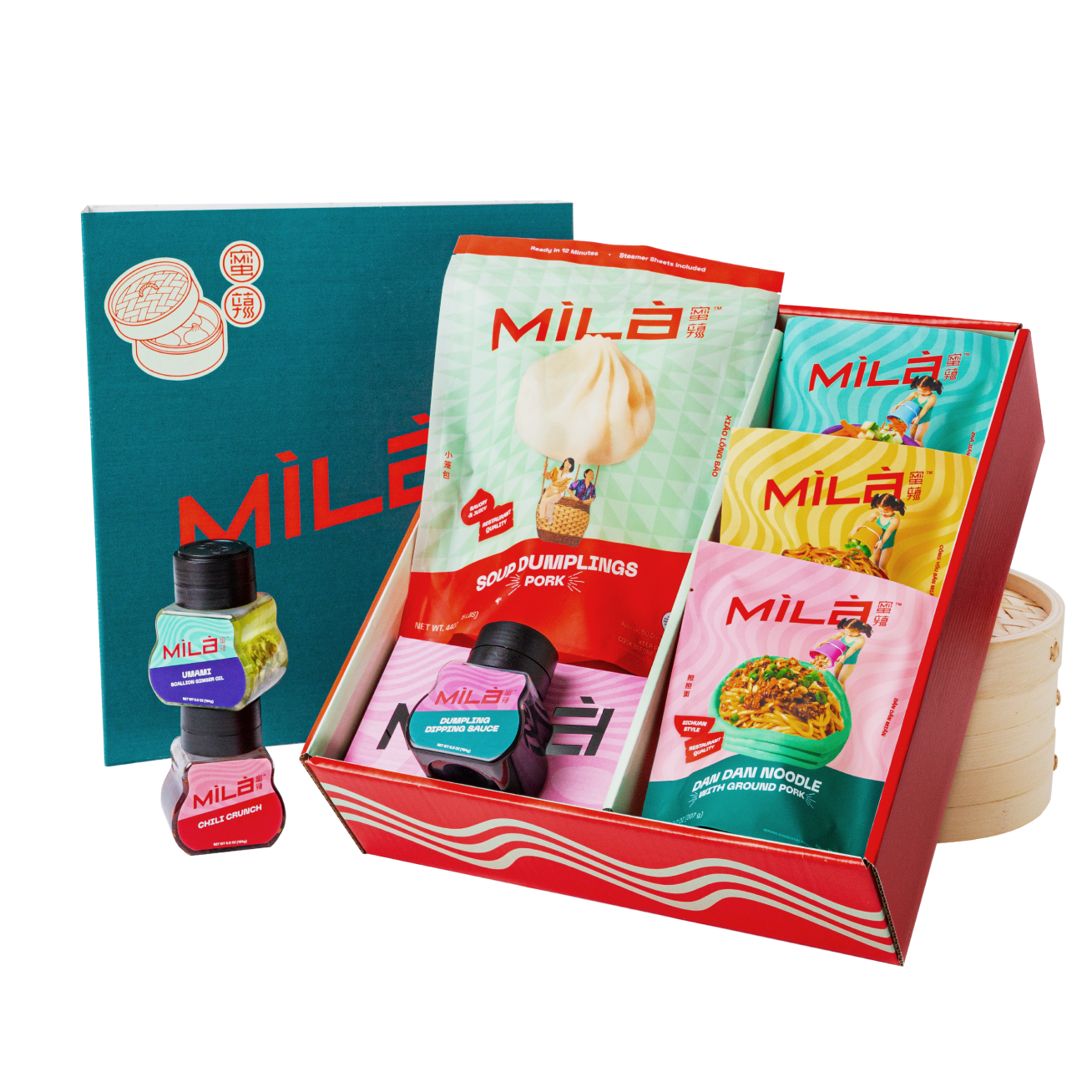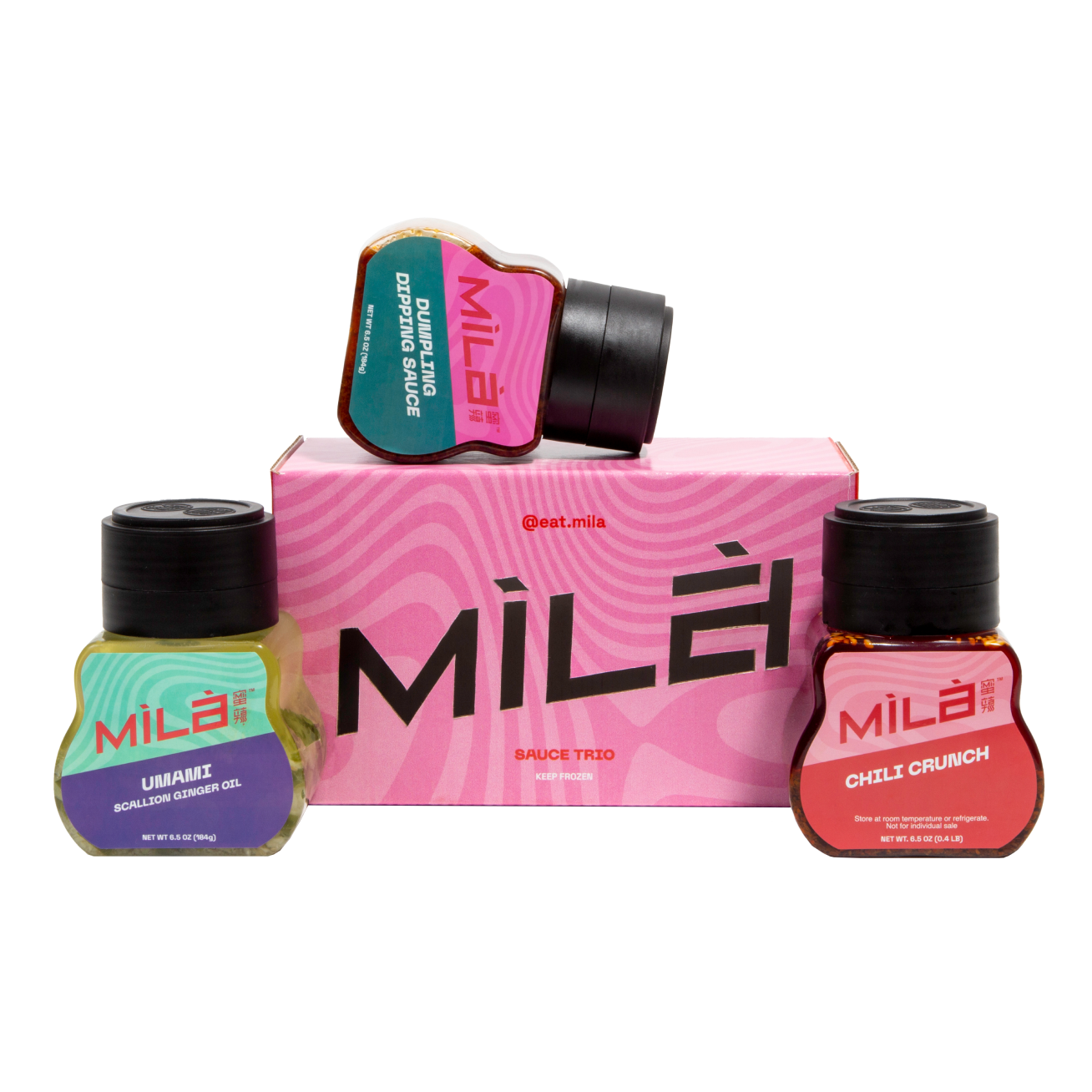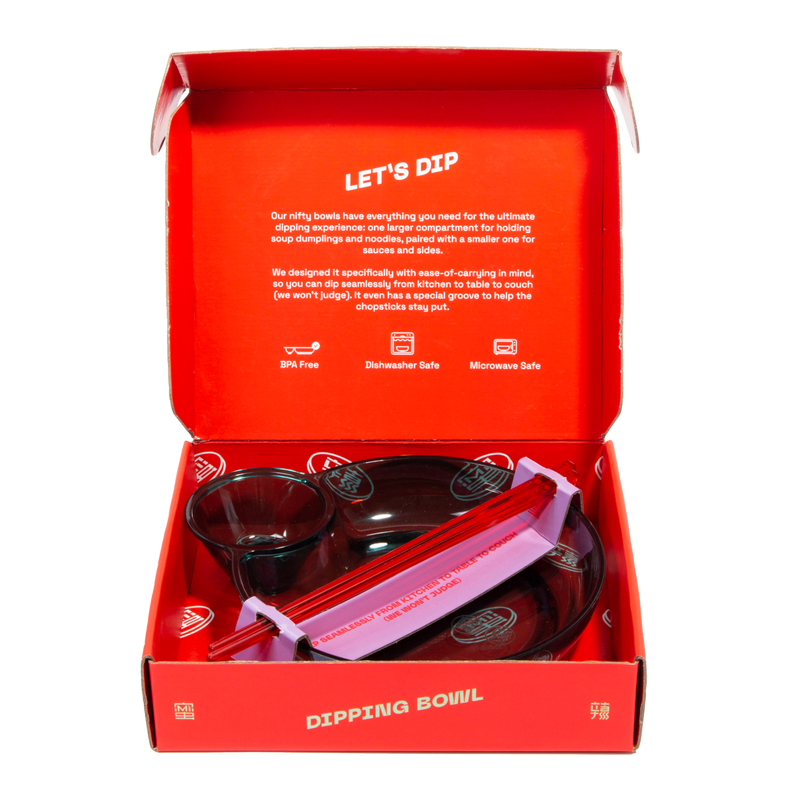 Give the gift of Chinese food! This gift-packaged bundle is perfect for your friends, family, co-workers, or anyone else who knows a good soup dumpling when they see it.
What's included
Classic Pork Soup Dumplings (50 PC) Our best-selling soup dumplings, made with locally sourced pork.

Noodle Variety Box (3-Noodle Portions) Try all three of our regional specialty noodles—Sichuan Dan Dan, Shanghai Scallion Oil, and Beijing Sweet & Savory.

NEW Spicy Chili Crunch Our handcrafted chili crunch stands above the rest, with its savory roasted flavor, bright, garlicky aroma, and tantalizing crunch. Asian spice level 5/10.

NEW Dumpling Dipping Sauce A must-have pairing for soup dumplings, this lightly sweet soy and vinegar-based sauce perfectly complements our umami-rich filling.

Ginger & Scallion Umami A ginger and scallion-infused oil, inspired by Hainanese chicken rice sauce, that brings out the nuanced flavors in our soup dumplings. Our best-selling condiment!

NEW 2 Dipping Bowl + Chopsticks Sets An ergonomically designed bowl with a large compartment for soup dumplings and noodles, a smaller one for sauces and sides, and a special groove to rest your chopsticks.

Bamboo Steamer Basket Handmade with 100% all-natural bamboo. Perfect for presenting your steamed dumplings directly from the kitchen to dining table.
FAQs
How are your products shipped? Our products are packaged with temperature-stabilizing dry ice and wrapped in an insulated liner. Your order is backed by our "Melt-Free Guarantee" — if there's a delay in transit that affects the quality of your product, we'll reship your order and make things right. Where are your products made? All MìLà products are made locally in our manufacturing facilities located in Monterey Park, CA and Auburn, WA.
How to gift MìLà
Add The MìLà Gift Experience to your cart.

Select "Send as Gift" when checking out.

Enter the recipient's info, so they get notified of tracking for their gift order.

Pat yourself on the back for giving the best gift ever.
How To Make
Heat Sauce: Bring 8 cups of water to a rolling boil and add the unopened sauce packet. Heat for 4 minutes and set aside, leaving the water in the pot.

Cook Noodles: In the same pot, add the noodles and cook for 6 minutes, swishing occasionally to prevent sticking. Drain and set aside.

Mix: In a large bowl, stir together the noodles and sauce, mixing thoroughly to combine. Top with fresh scallions and crushed peanuts (if using). Enjoying!
How to Make
In a large wok or pan, bring 2-3 inches of water to a rolling boil.

Place dumplings in lined steamer basket. Make sure to leave a 1 inch gap between dumplings.

Steam dumplings for 11 minutes (until internal temp. reaches 165°F). Remove from heat.

Rest dumplings for 1 minute with lid on. After 1 minute remove lid and rest for an additional minute. Serve with your favorite sauces!
WHICH NOODLE IS FOR YOU?
Noodle Type
Spiciness
Flavor
PROTEIN
Ground Pork &
Impossible meat™
Ground Pork &
Impossible meat™
Dan Dan Noodle
Noodle Type

Thin & Bouncy

Spiciness

7/10

Flavor

Tingly Spicy

protein

Ground Pork & Impossible Meat™
Scallion Oil Noodle
Sweet & Savory Noodle
Our Favorites
Liquid error (sections/favorite-product line 64): Could not find asset snippets/new-favorite-item.liquid
Liquid error (sections/favorite-product line 64): Could not find asset snippets/new-favorite-item.liquid
Liquid error (sections/favorite-product line 64): Could not find asset snippets/new-favorite-item.liquid
Liquid error (sections/favorite-product line 64): Could not find asset snippets/new-favorite-item.liquid
Liquid error (sections/favorite-product line 64): Could not find asset snippets/new-favorite-item.liquid
Liquid error (sections/favorite-product line 64): Could not find asset snippets/new-favorite-item.liquid
Liquid error (sections/favorite-product line 64): Could not find asset snippets/new-favorite-item.liquid
TRY OUR NOODLES
Sichuan dan Dan noodleSpicy dan Dan noodle
Vegan Shanghai Scallion Oil NoodleSavory Scallion Oil Noodle (Vegan)
Beijing Zha Jiang NoodleSweet & Savory Zha Jiang Noodle
Noodle Variety BoxNoodle Variety Box